About Dental Clinic Healthy Dent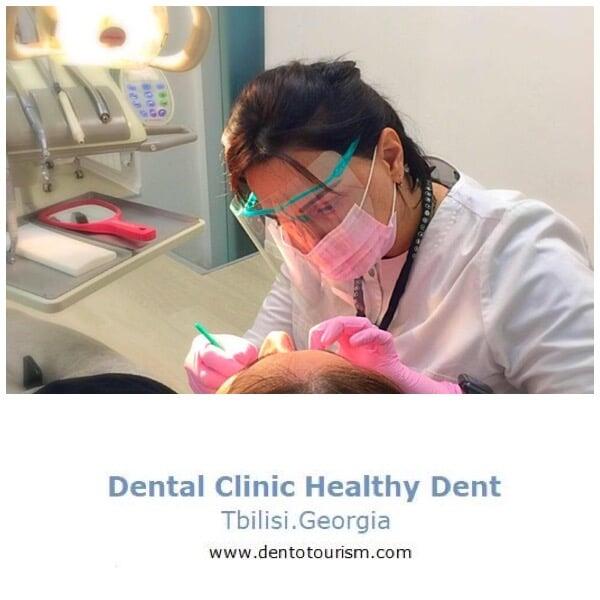 Healthy Dent Dental Clinic is a modern dental clinic located in the center of Tbilisi Georgia.
Established in 2010, we offer a wide range of dental treatments to patients of all ages, in contemporary facilities equipped with the latest technology. One of the most up-to-date clinics in the city, our success is based on our high standards, and due to the lower costs of running a business in Georgia, our affordable prices, especially to our international clients.
We have a team of highly-qualified and experienced dentists whose expertise covers a wide range of dental areas. Offering a multidisciplinary approach to your care, you can be certain our dentists will work together to overcome your dental problems.
Our services include prosthodontics (false teeth), endodontics (root canals), oral surgery, implantology, cosmetic dentistry, and general dentistry – from teeth cleaning to full restorative dental work.
With the best quality materials imported from the USA, Germany, and Switzerland, advanced technology, and the skill of our medical staff, we are defining new levels of dental services, offering outstanding dentistry at reasonable prices.
Find out how Healthy Dent Dental Clinic's services can transform your oral health and the look of your smile, and take the opportunity to visit our wonderful, historic city of Tbilisi while you are here. Please don't hesitate to contact us for further information about our services.

Marina Nicolos
" I recommend Healthy Dent Clinic, to everyone"
My friends recommended me to have a treatment in this clinic. I am very impressed with the excitement and professionalism that I enjoyed in a very warm and domestic environment. Most importantly, the timing of which I have put in all three implants as well as all the implants on the top jaw was perfect, thank you very much for your professional stuff . I recommend, Healthy Dent Clinic, to everyone.

Hannah Coopper
" I would happily return here for future dental care."
My partner and I came here for teeth cleaning and we both were very pleased with the service. My dentist was very gentle and thorough, I think she could sense that I am frightened of seeing the dentist. I would happily return here for future dental care

.
"Thanks to Healthy dent!"



This is a great place to go take care of your teeth. The team was very professional examining and providing solutions by priority. I had to do dental veneers and the team did a great job, I felt that I was in good hands. All the people here were very gentle and kind to me. They explained very well what was going on. Thanks to Healthy dent!
"I prefer to come here than to go to other clinics in Europe. "
High quality dental clinic in Georgia. The staff speaks English and they can start to give you consultation via email already . THE GOOD High ratings Professional staff English speakers Complete information online via email Extremely friendly and understanding Free THE BAD Waste of plastic for the shoes protection (maybe they could use some other system) BOTTOM LINE This is for sure one of my favorite dental clinics. I prefer to come here than to go to other clinics in Europe.

Gosha Morgan

"They were efficient and professional"
I am a Georgian from America. I went to healthy dent to get some work done, the staff was friendly from the receptionist to the dental assistants and dentists. The were efficient, professional, and overall the environment was great! I have to give them a 5 star rating for every detail of the experience!
This is the only Dentist I would recommend,
Thank you healthy dent staff very much!


Anna Buianova

As the dental service in Singapore is very expensive, I came to Georgia and found Healthy dent on Google. The staff and doctors are very professional, prices are quite cheap (especially compare to Singapore) and the location is very convenient as well. Totally recommend.

Gerlinde Kooyman

"good quality and care for an excellent price"
Very happy with my new crowns. A very professional team and a nice atmosphere. I definitely want to recommend Healthy Dent. In Belgium I would've payed 3 times as much. Healthy Dent offered good quality and care for an excellent price.