We're here to make you smile, so you can expect that our team will treat you with courtesy, professionalism, and genuine concern for your care.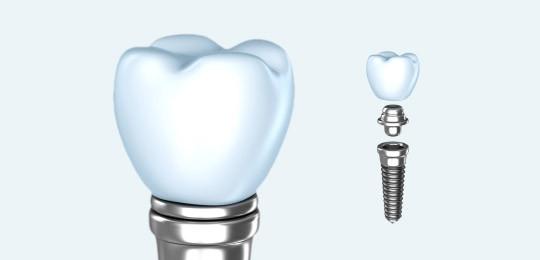 Dental Implants
Dental Implants Are Currently The Best Alternative To damaged Or Missing Natural Teeth.
Dental implants are titanium replacement tooth roots, which are inserted gently into the jaw bone and support a replacement ceramic implant crown or implant bridge. Unlike dentures, they don't move around, and they are more popular today than tooth-supported bridgework because they do not rely on adjacent teeth for support.
Implants have been around for a number of decades and millions of implants have been placed successfully worldwide. It takes years of experience for a dentist to become highly proficient at placing dental implants. Increasingly sophisticated technology has allowed dental implants to be placed faster, more comfortably, and more precisely than ever before using technology such as CT scans, navigated surgery, and guided surgery techniques.
When one tooth is missing this is replaced with a single-tooth dental implant. One dental implant body supports a dental implant crown made from ceramic which mimics the appearance of the natural tooth.
When several teeth are missing together, these can be replaced using two or more dental implant bodies supporting an implant bridge that has three or more ceramic implant teeth joined together in a bridge. The number of implants needed to support a bridge depends on the position in the mouth and the amount of biting force expected to load the implants. Higher bite forces are found at the back of the mouth than at the front, so more implants may be needed to replace the larger back molar teeth than the smaller front incisor teeth.
A full set of implant teeth can be placed for someone who already has dentures, or if the remaining natural teeth are failing. A full arch dental implant bridge supported by between four and seven implants is often used in these cases. The implants if strategically positioned are capable of supporting a full upper or lower implant bridge with between twelve to fourteen teeth.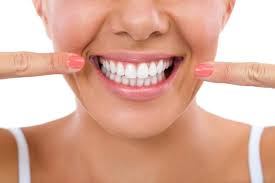 Dental Crowns
Dentists install crowns to perform several important functions. They protect weak teeth, restore broken teeth, prevent cracked teeth from breaking further, and support teeth that have large fillings. Variants of crowns are also used to hold dental bridges in place. In each case, the crown supports or replaces a structure that no longer works on its own. Whenever teeth are badly damaged, cracked, broken, or misshapen, crowns are the most effective solution.
Crowns are full-coverage restorations that are used to cover a tooth that is likely to break or is too damaged to be corrected with a traditional filling. Our crowns and veneers are highly esthetic, long-lasting porcelain or zirconia restorations, made in the laboratory with printing technology or handmade. This procedure consists of 3 parts :
Part 1 - takes about 60-90 minutes, and involves removing old/broken tooth restorations/crowns and preparing the tooth for the new crowns. Taking impressions.
Part 2 – is done in the laboratory by professional technicians, it may take 3-5 days. Part 3 - takes about 40-60 minutes. We fit, cement, and make final adjustments to the new crowns.

Teeth Whitening
Do you have stained teeth that make you feel self-conscious about smiling? Teeth whitening can be a good solution for certain types of tooth staining.
Teeth can be stained by foods, drinks, smoking, and certain medications. Teeth whitening is a safe procedure that can lighten the color of your teeth by using a safe dental bleaching agent. Individual results vary and are based on your initial tooth color and the nature of your tooth staining.
We deliver two types of teeth whitening:
1. ZOOM© Teeth Whitening:
Here your teeth are whitened in the dental chair. A protective barrier is placed on your gums and lips, and a gel is placed on your teeth. A lamp is positioned over the teeth and this activates the bleaching process. Watch this clip to see how it works. After one hour you can expect your teeth to look a few shades brighter and is a popular choice with many patients who have an important event coming up where they want to look their best.
Here we custom-make a lightweight plastic mouth tray for you that fits snugly over your teeth. You then put a whitening gel inside the tray and wear it at night or for a few hours during the day. Results are normally seen over 2 weeks and your teeth will also appear whiter and brighter.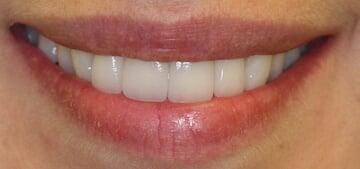 Dental Veneers
Dental veneers can be made of porcelain and composite tooth coloured material. Veneers are used to cover the full surface of the front of the tooth. Veneers are a good solution to correct damaged, discolored or misshapen teeth and are often used in conjunction with other forms of cosmetic dentistry.
When performed correctly, only minimal or often no preparation of teeth is needed with no anesthetic needed. Teeth are scanned and sent to some of the best specialist technicians in Georgia and a bespoke natural-looking veneer is created within approximately 4-6 days.
The bespoke designed veneers are bonded permanently onto your tooth surface. Veneers can last more than 10 years if cared for properly.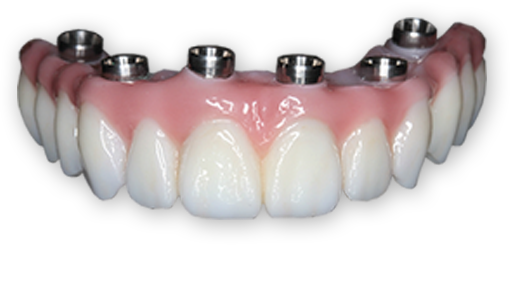 Dentures - For a glistening smile.
Dentures are an option when fixated works are not doable due to the situation in your mouth. New materials and new technologies can be used to make dentures that fit well, are comfortable to wear, and look natural.
Dentures made for patients who have lost all their natural teeth are called complete or total dentures. Total dentures can be additionally fixated in the mouth using dental implants – ALL-ON-6 system. Dentures made in cases when one or more teeth are missing are called partial dentures.
What is the duration of dentures, that is, is there a warranty period for them?
Doctor's support, proper care, and maintaining oral hygiene are highly important for the duration of dentures and, consequently, patient satisfaction, and dentures can last a lifetime if oral hygiene and the state of the patient's dentures are maintained properly. Dentures come with a warranty of several years.